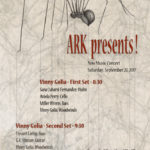 ARK has had the honor of hosting some of the most inventive and creative musicians to come out of the Los Angeles 'New Music' scene as well as new music visionaries from outside of Los Angeles.
ARK is excited to present a night of Vinny Golia!
A whole night of Vinny!…because one can never get enough.
Vinny Golia • First Set – Vinny kicks off the evening with his first set at 8:30:
Sara Cubarsi-Fernandez: Violin
Aniela Perry : Cello
Miller Wrenn: Bass
Vinny Golia: Woodwinds
Vinny comes back with a second set at 9:30:
Steuart Liebig: Bass
GE Stinson: Guitar
Vinny Golia: Woodwinds
Suggested Donation: $10 – $15
Doors open at 8:00
ARK Gallery & Studios
2599 Fair Oaks Ave., Altadena 91001
S/W corner of Fair Oaks & Harriet
wwwark-arts.com